How To Become a Successful (recovering) Alcoholic by J.P. Willson
My rating: 4 of 5 stars
Heart to heart, head to head
Although the subject matter did not initially strike me as particularly relevant in my own life, the ease and bravura of Willson's delivery spoke volumes of valuable insight into the struggle that so many face–and far too few overcome.
The author has a method of storytelling that is reminiscent of the sort of fireside saws my elders used to pass on their wisdom and give youth the benefit of vicarious experience. With seamless shifts between didactic point-of-fact, remembrances of the past, and musings on the proverbial whithertos and whyfors, Willson paints a clear picture from the perspective of both a drunkard and a recovering alcoholic. The honesty and humility in laying bare a lifetime of lessons learned and mistakes made lends a great deal of weight to both the tone and the theme. Rather than attempting to put on the mask of a "redeemed soul", the author speaks freely and without the sort of sterile pontification which signals meek attempts at saving face.
Willson tells his story the way he lived it: as a human being in all its perfect imperfection, filled with thoughts and feelings, hopes, fears, that we all might do well to consider.
Recommended.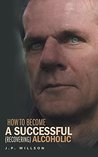 J.C. Augustus Lai Andurin is an Irish-American author and philosopher. Having spent much of his life traveling the U.S., Europe, and Asia, he has a fierce wanderlust and thirst for knowledge. Despite his adventurous spirit, he is a husband and father, first and foremost, with three wonderful children.
Latest posts by JC Augustus Lai Andurin (see all)